45mm gauge track - approx 16mm scale (1:19)
A long time ago I fitted by Accucraft Baguley Drewry Diesel with pickup skates to improve it's pickup which was not on a par with LGB chassis.
I purchased LGB skates and springs and made a holder from layered plasticard. That worked well for I guess about eight years, but recently the holders have started breaking apart. So I've drawn a new holder in TinkerCAD and had them printed by 3DPrintDirect in what they call Carbon-SLS.
Here are the printed parts.


Rather that the piece of metal which typically inserts from the top for pickup, I just solder a wire directly to the top of the spring and it passes through the top of the holder.
The part turned out well. The slot was a bit tight, but fortunately one of my files fitted inside and I was easily able to open it out so the skate slides nicely.
Here are they are glued to the sides of the block.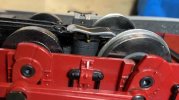 And finally the loco back on the rails. So extensive trials will of course be required, but I'm confident the loco will be back to reliable running once again!

5