Hi I was wondering of anyone else is interested in 3D printed electric de-couplers, or is it just me?

During these "interesting times", I have been revisiting my
servo driven LGB "hook and loop" decoupler
, to see if I could improve it by using tiny geared stepper motors.
I did post some initial stuff in another forum
here
, but I have had some success with a new design and was wondering of anyone else is interested..
the CAD section shows the anticipated final version with the motor drive on a small integral PCB (work in progress!).
The actual ones in the other photo shows the 3d printed parts, the gear motor drive unit and the completed test unit.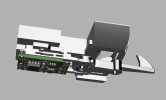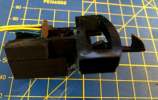 I have used plastic (printed) springs for the hook (up/down) spring, and these are only active when the unit is "coupled". A magnet now provides centralization for the hook, so it can go sideways.
When you want to decouple, the "pusher" bar is forced forwards (like the massoth design), and disconnects any engaged hook, and at the same time releases the "up down spring" so the couplings own hook can go down and disengage.
I will put it on thingyverse when I'm satisfied.
BUT the reason for the post is to ask if anyone else is interested
? -
I actually use knuckle couplings on my railway here, so actually have not much incentive to progress further now I have proved the concept to my satisfaction.
??? BUT if anyone else is interested, I would love to hear from you .. and it will encourage me to keep improving the design - and hopefully discuss what improvements can (/ need ? ) be made!
Electronics:
I have designed a tiny PCB for this project, but have not made it yet, so the motor is wired in the photos. . I will build the SMD board when the bits arrive.
The board takes a standard RC servo PWM signal and uses it to make the stepper drive go from one end stop to the other.
(I have another version of the code that gives "analogue" drive, so if anyone is interested in it for other applications, let me know ., but that is for another post.. )
Little video of an earlier prototype to show the principle of operation
Cheers
Dagnall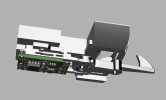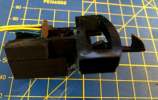 2