Garden Railroader and Raconteur
27 Oct 2009
7,127
2,266
67
I'll anchor this thread with this, for starters.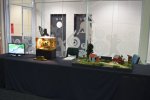 A slight variation on my usual fare. This time, I ran videos of the Wellington Group layouts, a DVD player coming 'available for further use' after some furniture rearrangements at home. I also dug out some S scale standard gauge stuff to compare the Glen Road layout with... Yes ma'am, it is the same scale. As usual, Haywards was the ready fallback of plug in and play. All this fitted in my Honda Fit, along with weekend luggage for two.
The show itself, is run by the Taupo Model Railway Club, but is more than just a model railway event, partly due to the fact that they are are smallish club, and trains alone will not support an exhibition on its own. The fact that it includes other hobbies, widens the appeal to the general public, and has also attracted a good sponsorship from a local entertainment provider (the publicity works both ways). The fact that a lot of the participating clubs are on the same adjoining acreage. Bonus for the club, is that they are about halfway between Wellington and Auckland, and it is the middle of the school holidays, and Taupo is a tourist town with a nice little trout fishing pond.
Michael Crawford relates in his dissertation of how he became the Phantom, recalling how he bumped into Andrew Lloyd Weber 'outside the Men's loo',
'Michael, we, we, we must do Phantom, together'.
'Yes Andrew, and I immediately went out and bought the book'
The location mentioned, drew a typical English 'inuendo applause'..... which I always recall (and mention) every time I get located 'outside the Men's loo'. Third show in a row, now.
Last edited:
5