I'm not sure how I haven't managed to stumble across this before but I noticed the Makerbot-commissioned Big Boy design on Thingiverse yesterday. Has anyone else seen this?
Big Boy on Thingiverse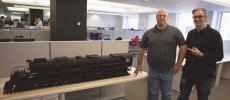 It's an impressive piece of design The entire thing is downloadable for printing although you'd be pretty insane to attempt it at full scale
It piqued my interest though, as a kit bashed Big Boy is on my bucket list and I am hoping that some parts such as the boiler, front, cab and tender may be worth printing out for it. It'd certainly be easier and more accurate than if I tried to scratchbuild those parts. Scaling the relevant parts down by 75%, should bring it down to 1:20.3 I think.
I've tried one of the cab pieces with some rivet detail and it's come out pretty nicely.
The tender is available as a seperate Thingiverse thing
Big Boy tender
3