Since Bachmann haven't produced a Henrietta in the Large Scale Thomas line.
I've basically decided to try and make one myself.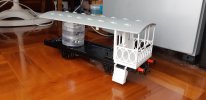 So far I've only printed one end. (wasn't 100% sure my measurements were correct, so I test printed)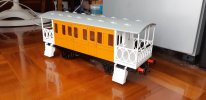 Test image of hopefully what it will look like when I get the other end made.
Since I've never had experience with repainted or cutting the Annie/Clarabel body.
If I can get any advice on painting the middle part.
I'm guessing I need to sand for the primer to stick?
And how to safely remove the windows.
As I really want to reuse the acrylic?
And maybe the plastic tabs that hold them into place.
7