Bradyeische Zigspitzbahn (BZB Mountain railway)
26 Jul 2017
186
34
46
Best answers

0
Newly arrived this weekend at the BZB, I was not ever expecting to Go down the MOB rabbit hole on my developing railway, and to be honest was not really aware of LGB MOB offerings that were available until recently. I travelled as a 9 year boy on the MOB many times during a weeks caravan holiday to switzerland in the mid 80s as it took us to the Interlarken region from Montreux where we were staying . The highlight being a trip on the "Panoramic Express" in the type1 (late 70s/Early80s) coaches that had panoramic"ish" windows in the roof. After unexpectedly aquiring an MOB GE 4/4 Loco last month and re converting to new
RC (loco control)
from a Timpdon Electrics RC system before, I kept an eye on the coachs that failed to sell with the MOB train originally and they were aquired last week after a short wait.
: Pictures from my boyhood 1986 scrap book and MOB book....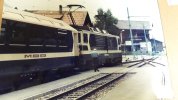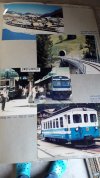 During this last month I have also drawn inspiration from this chaps railway on Youtube (Mutzerbahn), Its probably one of the best alpine sytle G scale railways I have ever seen, maybe because it actually has real swiss mountians as the backdrop, something I will fail to have here in the UK but the shropshire hills will have to do !
LGB NUMBER# 35673
CLASS: Second, (1st class was 35670)
RAILWAY: MOB
SIZE: 62cm long !
SPECIAL FEATURES: Lighting via track pick up, On off switch to underside and voltage stabilization, Metal wheels
LGB PRODUCTION ERA: Circa 2006






These Coachs are BIG ! I have R1s in the New Shed Station sidings and they just fit on this, if a little akwardly but as the rest of the garden develops this will have to be kept in mind. This Coach is numbered 211, from looking at original specs for this coach it was much bigger in realife and had 8 large windows compared to the 5 on this model and was built from 1979. The quality of the lighting is excellent as is the detailing inside the coach which i wasnt expecting. I dont think LGB MOB offerings are that popular compared to the RHB, but to me the blue and cream is quite delightful. But taking some wise words from

MTheStrong
"decided to concentrate on stock of lines that I have visited" this really does inspire me to not go off on other LGB tangents for now...

Future developments:
#I have sorted through and found that 2 of the coachs had been converted to run via the battery in my loco (wired up along the train). I am probably going to change this to a rechargeable battery in one of the coachs only, as the wires drag against the bogies a little.
# I will be selling some of the coachs as i just dont have the space for all these ! It would be nice to find/ Swap one for a 1st class coach if anyone has one? !
# Maybe a bit of "bashing" will takeplace on one of the coachs to creat a 80s Panoramic express ! from looking through pictures and inspecting these it appears that the same design of coach was used and a new roof designed with the extra windows. watch this space !
# My dad expressed an interest in modeling something smaller (he gave up his garden railway in 2020 after moving closer to me and a smaller house, I found a HOm scale (Bemo) GDe 4/4 for a nice price along with coachs from Ebay that match these so we are both going to build an MOB layout !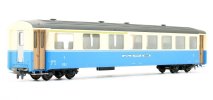 Last edited:
4