I recently acquired a large lot of mostly LGB wagons and locos from an estate - the more interesting ones I will share photos of when they get here. However, I do have one big pic of the collection and there are some small items that I know nothing about.
These little locos were, I think, a load on a freight car originally? Don't they have a funny name? And what about the 2 small yellow trucks/vans, which I don't recall seeing before.

The other item I don't recognise is a small crane: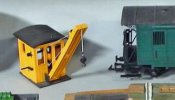 There is a small flat car in the lot - would it have been mounted on that?
Are all these LGB accessories?
Any help gratefully received.
P.S. Here's why I was intrigued by the collection. #3 is a 2017 painted black, but the other 'inspection' loco/coach seems to have been made on a Bachmann 2-4-2 chassis, which I know how to fix if the gear is split. There's also a short coach about the same length with a pair of very short trucks. More to come. . .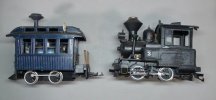 2