Hi there, I'll just start this thread to tell something about my garden railway while it is being planned and built. I'll just call it Puutarharata, which is Garden Railway in Finnish
(Pronounciation is something like poo-tar-ha-ra-ta, where "a" is like in "car")
I already got the mXion MZSpro DCC central station (from ML-Train), here is the picture of it while assembling the WiFi module: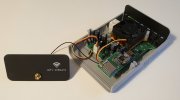 Very small and light indeed, that's the set I got:
Digitalzentrale 8A + WLANmaus + 240 Watt Netzteil ML-Train 84006026
(there are the links to the manuals in the bottom of the page, with English content as well)
Sadly I wasn't able to test my Stainz with it yet as the eMotion L decoder I ordered has not been shipped yet, hopefully I'll be able to install it then!
Connecting the MZSpro to my home wifi network went fine, and the same with the WLANmaus as well. What I'm slightly concerned about is that the MZSpro "standalone" wifi network cannot apparently be disabled, so anyone within the signal distance having the knowledge about the device default (and fixed) password can then connect to and control the system. That's also when the system has been configured to connect to another wifi network (like the home network). I hope I just missed some critical piece of information, I'll see that later again.
Anyway, the garden has been mostly completed (without the railway I mean, we had a major renovation project there), but I think this coming winter season will be spent on planning (and building some details inside) and the actual track laying could then be started after the winter. Let's see!
4