24 Oct 2009
5,183
6,290
71
For many years now I have had a track plan for a G Scale 'portable' exhibition layout. The original plan was for an end to end, fiddle yard to rural terminus, layout. It was intended to build it to fine scale standards, something of a rarity in G Scale. It was designed to be a layout of two parts incorporating a station area with a run-around loop and associated sidings, which would be used to display a variety of passenger stock coming and going, together with a goods yard that was also a shunting puzzle. The idea was that there was always going to be some movement on the layout, something often missing on too many exhibition layouts, whatever the scale. The railway company that I created is called The Claptowte Railway, a very tongue in cheek name. I created a fictitious history for the railway in order to explain its various idiosyncrasies. The terminus station was to be called Gernise End, yes that is pronounced Journey's End. My play on words is a fitting name for a terminus and also for what is intended to be the culmination of many years spent railway modelling. The shunting puzzle/goods yard was to be called Goudes Sidings, another use, or misuse, of the English language.
Over the years, I have been steadfastly collecting all the required items, track, rolling stock, locomotives, very much to a plan. Now at the age of seventy and no longer able to drive, reality has set in and there is a reluctant acceptance that it is never going to be built in the original form, being too large and complex.
The items of rolling stock that I have created over many years, all extensively modified to my own design and repainted in the corporate livery, are largely unique. It has given me many hours of enjoyment producing them. It has occurred to me that it is my stock collection that is the main interest and that any layout is only of secondary importance as a means of displaying it. I need to create a much simpler and less scenic layout as a means of displaying the Claptowte Railway stock.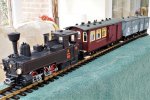 I have come up with a new simplified track plan that is now a continuous oval. The fiddle yard is now a series of run through sidings so that trains can be run in either direction. The station, Gernise End, is no longer the terminus but now an intermediate station with a passing loop and reduced and simplified goods facilities. Goudes Sidings is no longer a shunting puzzle but a simple pair of sidings, used as a stabling point and a means to display further stock.
In order to make the layout more compact, easier to store, move and transport, the boards will be flat with no backscene and no fixed buildings or scenery. All of the structures, trees, hedges, etc will be removable. The appearance, although not to fine scale standards as originally intended, will, I hope, be acceptable. As I said everything is secondary to the displaying of the stock. The history and description of the line has been re-written to reflect the new layout design.
The history and description of the line has been re-written to reflect the new layout design
The new design of track plan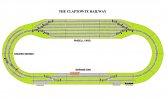 David
4

1