AddictiveBiscuit
Steam Locos, Armoured Vehicles and Aviation
So I've always kept my rolling stock and locos indoors but I think its time I moved the rolling stock in to some kind of outdoor storage, the number of red boxes in my room is out of control.. And I'm tired of having to carry loads of boxes outside to the bottom of the garden to play trains! So I'm thinking of buying one of these plastic storage thingys and filling it with shelves to keep my rolling stock in. I'm sure somebody else has done this before! Would I need to insulate it? Or will they be alright as they are.. As some of my coaches have lights.
Why not just buy a shed I hear some of you ask? Well simply I don't have space or money and in the next year or so I'll be moving out (I Hope) and I'll want something that can be moved easily.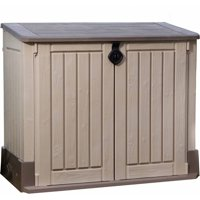 I Imagine you'll all know what I'm on about but I've included a picture anyway!