James Day
Guano Corner Rly - Runs weekly - Guano permitting
Dear All,
As we now have a dedicated Playmobil section, I thought that I would like to share some ideas with members about some modifications I have made to some of my PM locos. I hope that others will share their own ideas.
I am no modeller and frankly just enjoy operating my trains. My layouts are automated DC. A while ago I came to the conclusion that locos with lights that did not light up, or went out when they stopped, looked 'dead'. A project then began to add lights to some locos without them: The diode lighting units were made by a chum and were designed to keep the light on and bright as long as possible. Later lights were added where missing to the RC fleet too, although this time they draw power from the battery.
First Steaming Mary: I always found the lack of a working light disapointing: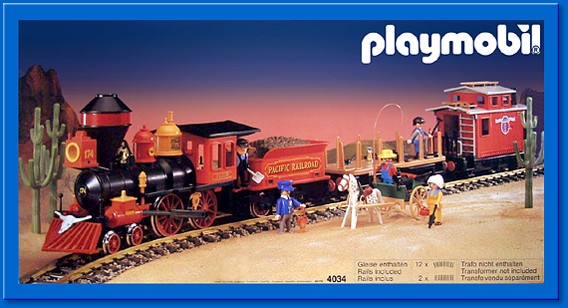 So a diode was added powered by an umbilical from the tender. The best feature though has to be standard Playmobil lens modified to fit by a chum. Quite plased with the result of this, but apologies for the loco looking a little wonky in the imnage!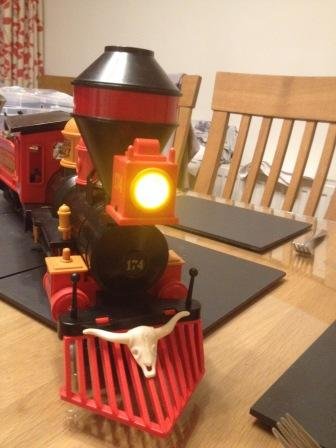 Apart from Thomas, tank engines should go backwards as well as forwards, but the lack of rear lights was a real shame. Some extra light fittings were bought from PM direct a few years ago and others from dealers such as PlaymoKing on E-bay.de and these were mounted in the coal load.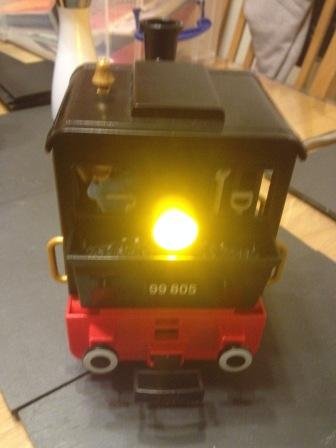 This is an RC version, but all my tank engines have these in the appropriate colour except the US versions, which can only haul trains forward due the cow catcher/pilot.
The same was done with the diesels too This time most of the parts were from PM direct, including the black lamp surrounds and the lenses with the LED cups as used in the 4085. Lamps for the older diesels were bought from E-bay.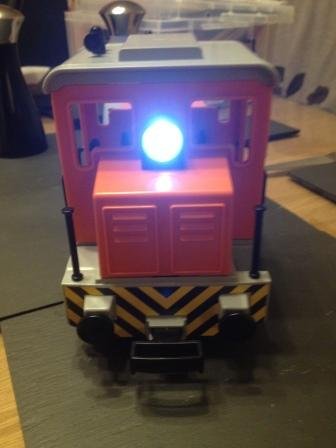 This is another RC version where the lights stay on all the time, as they do with the 2nd Generation RCE and Bo-Bo. On the track powered versions of the steam locos and diesels the LED lighting is directional.
The chassis in the above two RC locos are of the more modern type with the power take off. For the steam loco the spring arm arrnagement was removed and a pair of wires with solder tages were screwed to the take off points on the chassis. A pair of plugs was added to the lead to allow the chassis to be easily removed when required. If no modern chassis is available leads can be run direct from the battery connections.
What I need from others are some ideas for installing LED lighting in the works locos. At present mine have a pair of LGB plug in type bulbs mounted in gromits, but I was a little put off by the lack of space in the model for the circuitry!
James
Last edited: