Because I'm not familiar enough with real German trains to know what's normal for them, I have some questions regarding sticker placement on coaches like this:
1.) Is it normal for passenger cars to have a 1 on one end and a 2 on the other, or is this playmobil's way of showing the available sticker choices? What do those numbers mean? Would it be more standard to have only 1's on all ends/sides of one coach, and only 2's on another?
2.) Is it normal for smoking and non-smoking signs to both appear on the same coach?
3.) Regarding the DB on the side, is it normal to have DB on both sides or on only one side with the yellow 'B' on the other side?
The reason I ask about the DB is because the sticker sheet for 2 coaches appears to have only 2 DB stickers and 2 yellow 'B' stickers: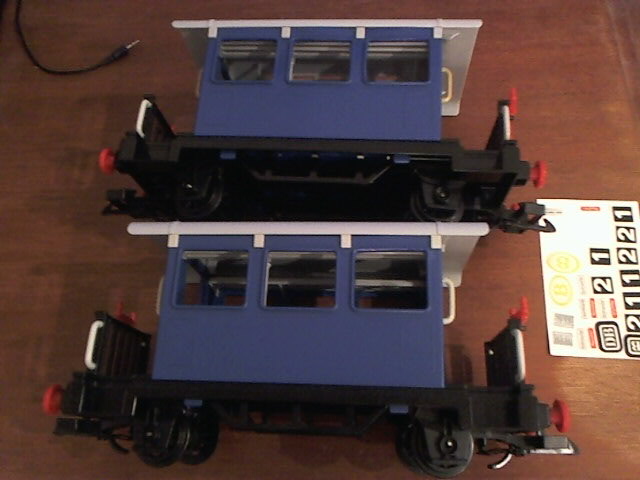 I'm trying to determine if the DB and yellow 'B' are supposed to appear on one side of both coaches respectively, or if the DB should appear on both sides of one coach and the yellow 'B' on both sides of the other coach. I realize people can do what they like, but I'm asking what would be most reasonable for this kind of passenger car.
4.) I know that the DB stands for Deutsche Bahn, but what does the yellow 'B' stand for?
Thanks
Last edited: