Neither idle nor a marvel
Warning. Long nerdy posting!
I am currently modelling the Steyrtalbahn narrow gauge railway in the 1980s, around Grünburg station, and I want to try and reproduce real weekday operations. By then the line was reduced to one section between Garsten and Molln, with intermediate stations of Steyr (Lokalbahn), Aschach and Grünburg. Other parts of the line had been replaced by bus services as roads in Austria improved. From Grünburg to Molln there was a bus service in the morning, with train services in the afternoon and evening, so for half the day Grünburg was a passenger terminus, the other half a through station. Most trains were mixed passenger and goods, and towards the end of the life of the line, trains were often goods wagons with one passenger car at the end. Like most narrow-gauge lines, it is single track with passing places at the major stations.

I found a timetable for Winter 1981/82 for line 28a (Garsten-Klaus), which lists the passenger and replacement bus services (
in italics
), reproduced below in spreadsheet form: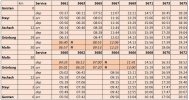 For operations planning it helps to show the timetable in diagram form.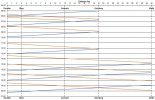 Train diagrams are typically shown as line graphs with distance on one axis and time on the other. Trains are shown travelling down the page from left to right (orange) or right to left (blue) – my choice of colours. In the diagram above, the line is about 30km long (horizontal axis) and the services run from 4am to 9pm (vertical axis). The slope of the line is an indication of the speed of the trains. In this case they are all much the same, averaging about 22 kmph.
Where the lines cross the trains pass each other in opposite directions, so that needs to be at a passing point, in this case mostly at Aschach but also at Steyr for the first train of the day and Grünburg for the last.
You can use these charts to figure out where if required a new service could be scheduled. This is most easily seen as wider gaps between the lines, for example outbound between the 8am service and the 11am service from Garsten, and inbound between the 9am and 12am from Grünburg. As this is single track with almost no signalling, gaps between services need to be quite "wide".
You can also use these charts to figure out how many trains/locomotives are required to run the timetable. If we mark on the chart where the last trains finish (red arrow), we might think that three trains are required; one ends at Garsten, one at Aschach and one at Molln. The second train from Garsten (for early morning workers) terminates at Aschach and seems to have no further purpose than to sit there all day.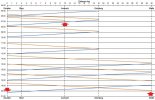 This is because we are only looking at the public timetable passenger services. Behind the scenes there are other train movements. If we timetabled an empty stock movement from Aschach to Garsten via Grünburg for example, that train could be used for the 11am from Garsten. If we moved the last train from Molln to Grünburg that could be the first train from there the following day. These are shown as dotted lines on the diagram below. Now potentially we could manage with two trains.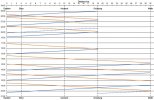 Scheduling the last train is easy as nothing else is running, but the movement during the day from Aschach to Grünburg then back to Garsten is trickier. There needs to be sufficient gap between the previous and following service for safety reasons, and as the return will be crossing paths with the 8am outbound, we need to make sure it crosses at a station. The best fit seems to be if it leaves Grünburg just after 8am and crosses at Aschach, getting to Garsten just after 9am.
Now we can confirm that two trains are sufficient to run this timetable. In this diagram train one is green and train two yellow, and the dotted lines are services not on the published timetable:
Both trains travel just over 200 km each day, and seem to have sufficient stops for water, fuel, crew rests and changeovers (the Steyrtalbahn was all steam, no diesel). It might seem wasteful to make empty journeys, but as mentioned earlier there were often more goods wagons than passenger cars, so the services during the day could be used for freight. The last one at night would most likely be empty. There is/was a loco shed at Grünburg.
There are alternatives to these workings. The train at Aschach could return directly to Garsten. The last train could return to Garsten, but it would make for late finish and a very early start to get a loco steamed up and ready and travel an hour to get to Grünburg by 5am.
I now have a working timetable to reproduce the operations at Grünburg. I am looking to see if I can run a goods only service in the morning between the passenger workings.
6

2