Zerogee
Clencher's Bogleman
Yesterday the Memsahib came home from a shopping expedition with something very useful..... she`d been to Dunelm, the big home furnishing and housewares store (they`re all over the place - http://www.dunelm.com/stores), and among various domesticky type purchases she`d brought me a pot of "Coloured Vase Filler", 450g for the princely sum of £1.49, which makes almost perfectly-sized G-scale coal!
Yes, I know you can crush up real coal like the coal-firing boys do, but if you`re using it for decorative purposes rather than as loco fuel then that can get very dusty and messy - this stuff is just coal-coloured chippings of something - not sure exactly what, but the back of the pack assures me that it`s non-toxic and contains "no free silica and no free quartz". It`s completely clean to handle, no dust or black marks, and I think you`ll agree from the photos (with a puzzled Pola G stationmaster thinking "who the **** has dumped a pile of coal here?&quot

that size-wise it`s pretty near perfect for filling loco bunkers, coaling staithes and even for wagon loads (using a suitable block of foam with a thinnish layer of this on top - it`s a bit too heavy to just fill a wagon with).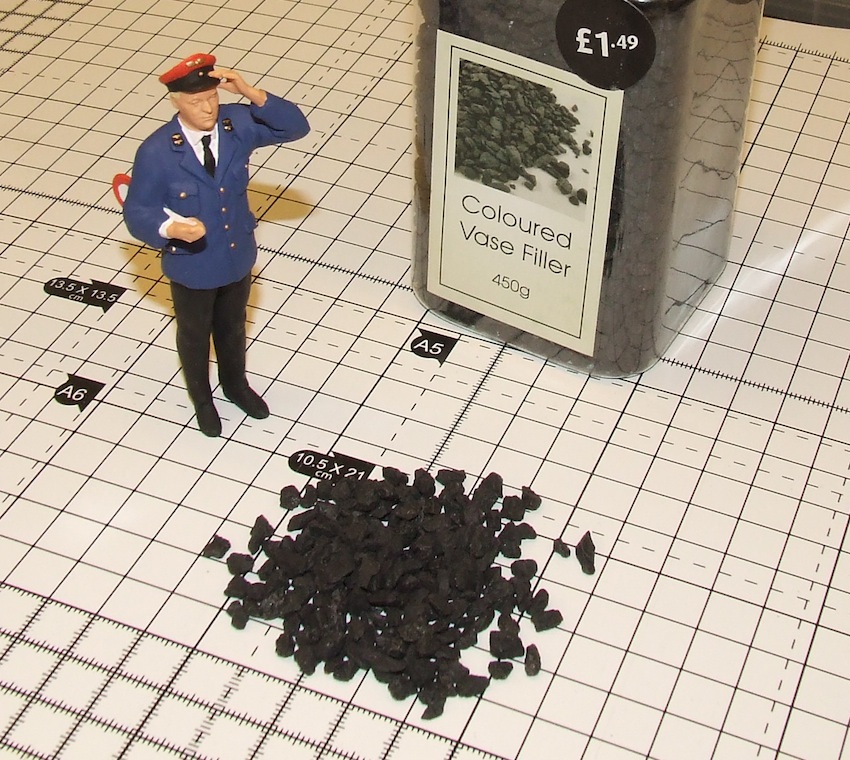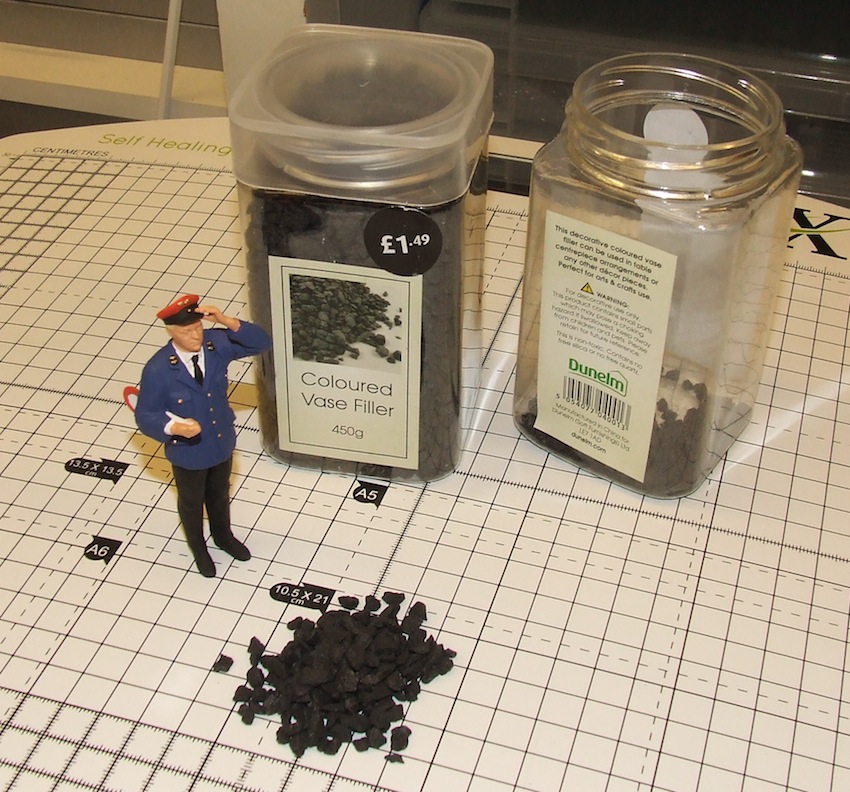 I`m definitely going to make up a couple of little blocks of this PVA-glued together to fill the bunkers in my pair of TL45 Mallets, in place of the very overscale chunks of loose coal that are supplied - then I`ll start looking at other uses - I promptly nipped back to the store and bought ten more bottles, all that they had on the shelf (so don`t try the Colchester store for any till they`ve had a chance to restock...

)
Oh, and they also do the same material in an ivory-white colour, which I think could look good for stone chipping loads in hoppers or open wagons.
Hope it`s of use to some of you!

Jon.