Emilys dad
I'm New, Please Be Gentle
Warning - De-Lurking in progress!!!
Setting the Scene.
After attempting to model the Southern Region in 4mm for a few years, the wife appeared with 3 kids. A 4mm layout in a 3 bed semi was never really going to be feasible, so I jokingly suggested going outdoors in G. And to my (and my mum and dad's) surprise, planning consent was obtained!
Plans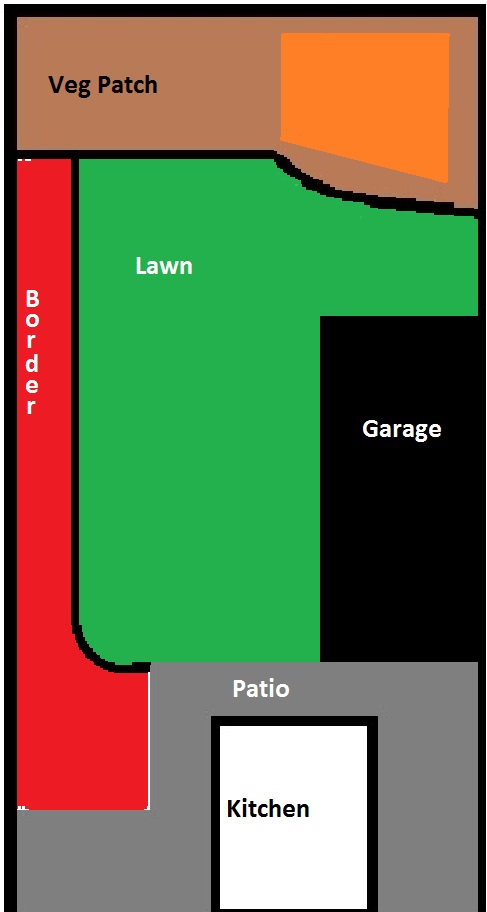 The garden is about 17m long by 8m wide. The veg patch at the rear is elevated by 1ft. The orange area is a "forest" of raspberry canes.
The rough plan was for some sort of station somewhere in the border with a return loop to the south around the edge of the patio near the kitchen. Heading up the garden the line climbs, does a circle of the veg patch then descends back to the "station" area.
We've got a fair few rhubarb plants and a lot of raspberry canes, so I intend to have some rhubarb wagons (bolster wagons) and some raspberry trucks (gondolas) to run for "play value".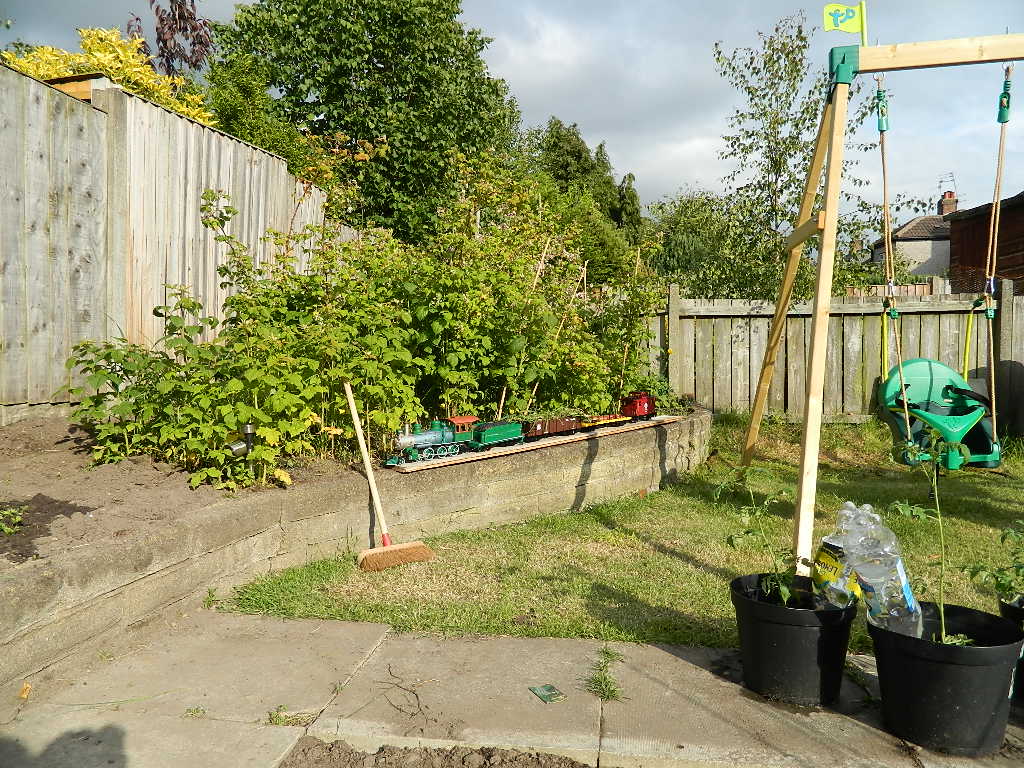 This was the top of the garden, where line will run around the edge of the raised veg area. It'll be behind the retaining wall though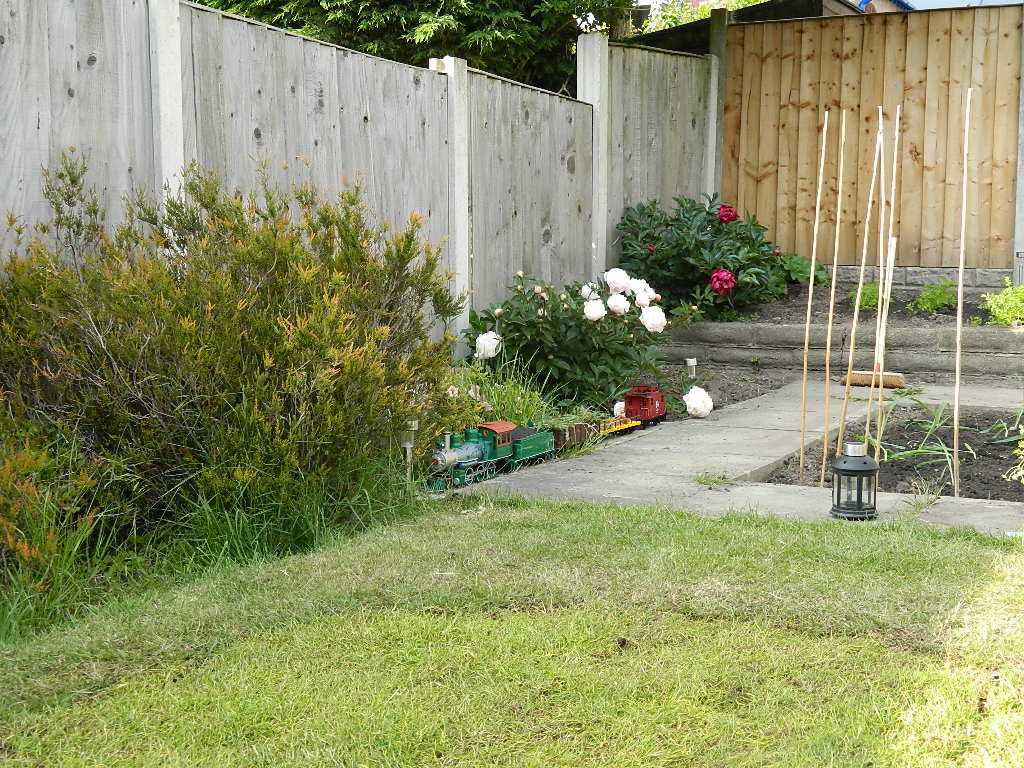 I imagined a high and low level line running at the front and back of the border area. This was abandoned for reasons that shall become apparent shortly.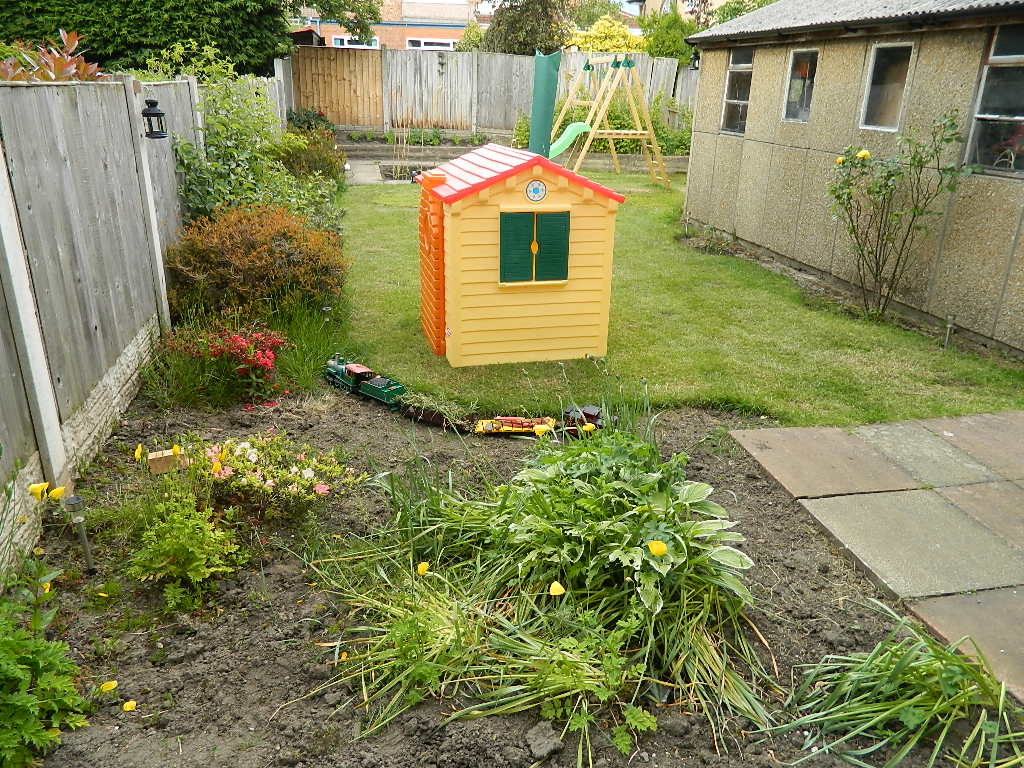 The site of a balloon style return loop near to the house.
That WAS the plan. A few bits of cheapo Bachmann Big Haulers stock from fleabay and of course "creative juices" started flowing (I had a bright idea after a few beers). I spotted a VERY cheap Bachmann Connie at our local Hattons (sold as a non runner, usual split gear wheel), and a similarly cheap Annie, from fleabay once again, I decided on a ruling radius of LGB R3, which coincidentally happens to make the return loops fit my available space perfectly. However, it meant that the idea of a folded dogbone style plan wouldn't work. I didn't have enough room for a double track curve in the corner of the garden, which would mean complicated wiring for reversing loops. Until I decided to change to RC (currently in research stages).
Anyhow, construction has been slow. Painfully slow. Till this year. I think the boss is annoyed with the slow progress. That and our boys have decided that they are old enough (4 & 2) to start grasping the basics of civil engineering. I'e', they ARE "helping." Whether I need it or not! (They are quite good at muck shifting, till they both want to push the wheelbarrow).
So this is where I'm up to;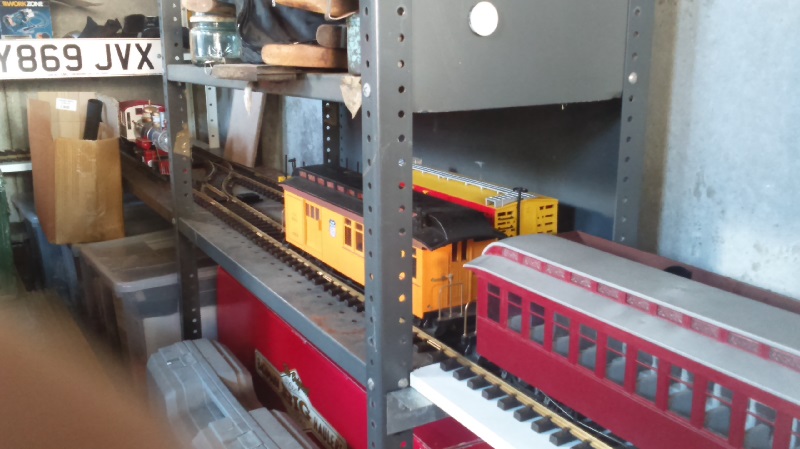 The Garage. A little bit of stock storage combined with workshop. This leads out through the back wall...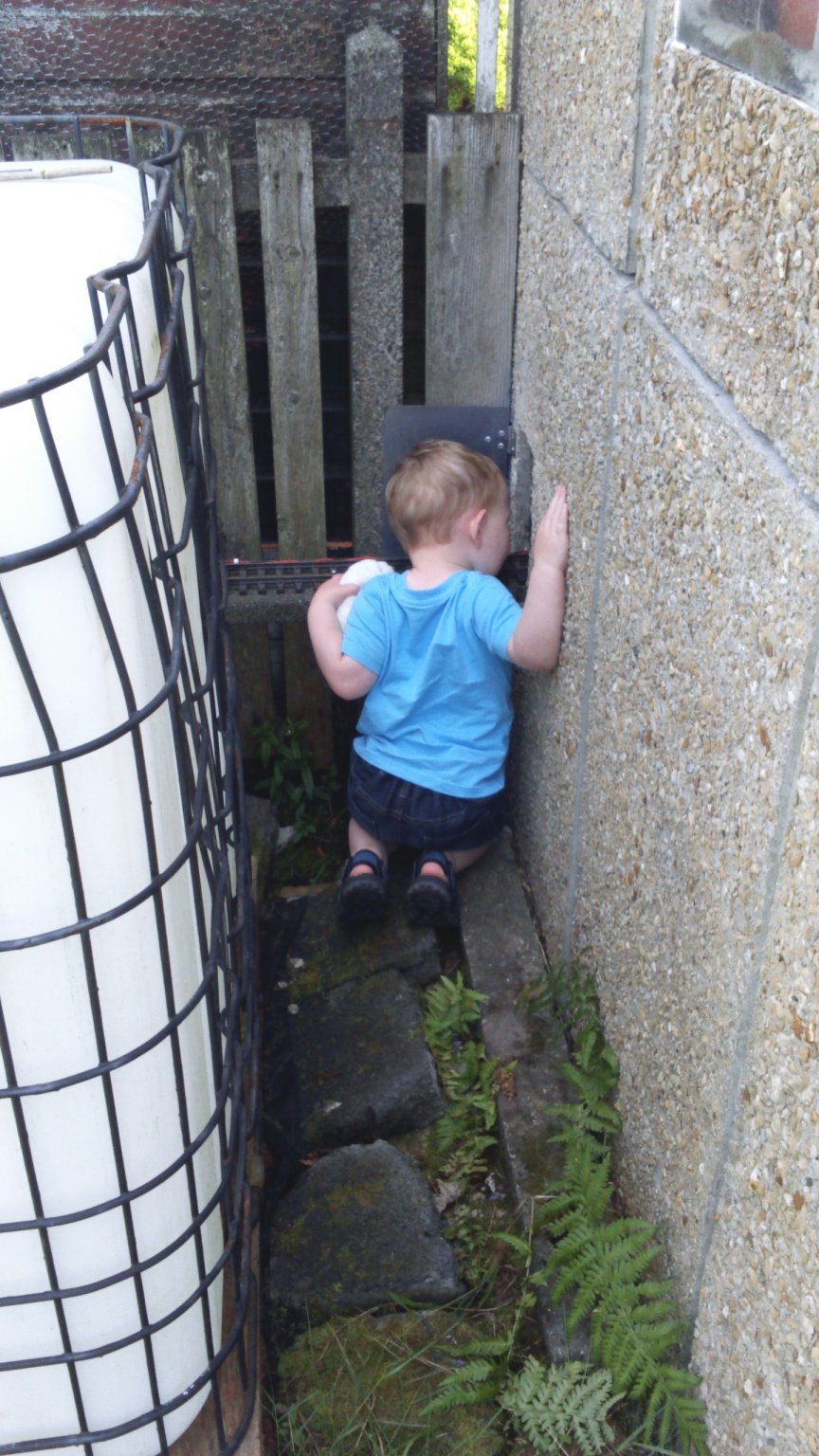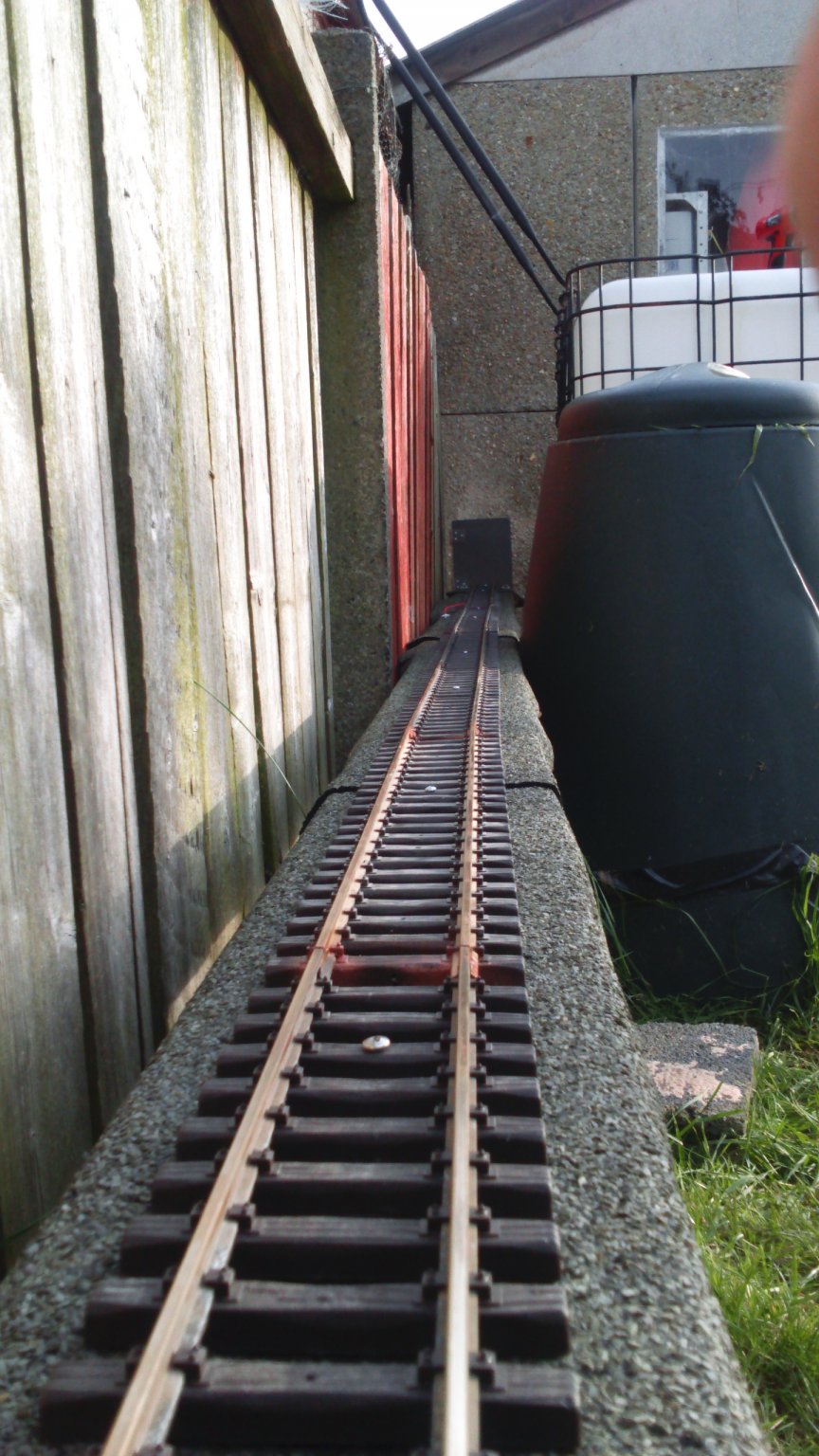 The line then descends a bit as it heads towards Raspberry Forest.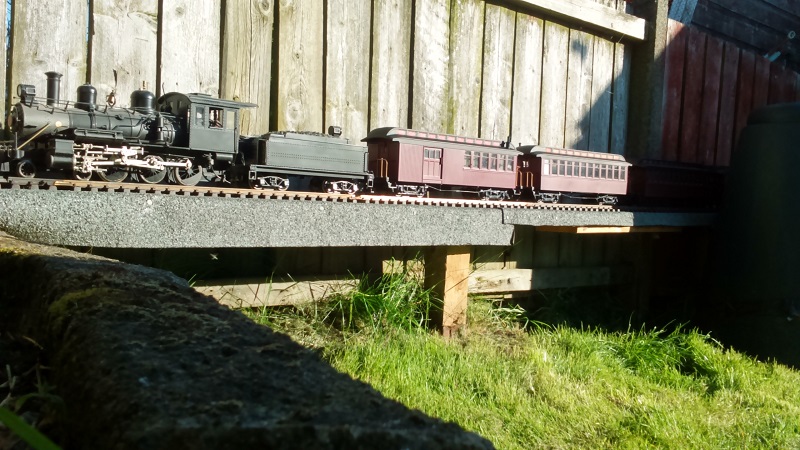 Pictured during a construction phase, #34 is removing 2 gondolas of spoil.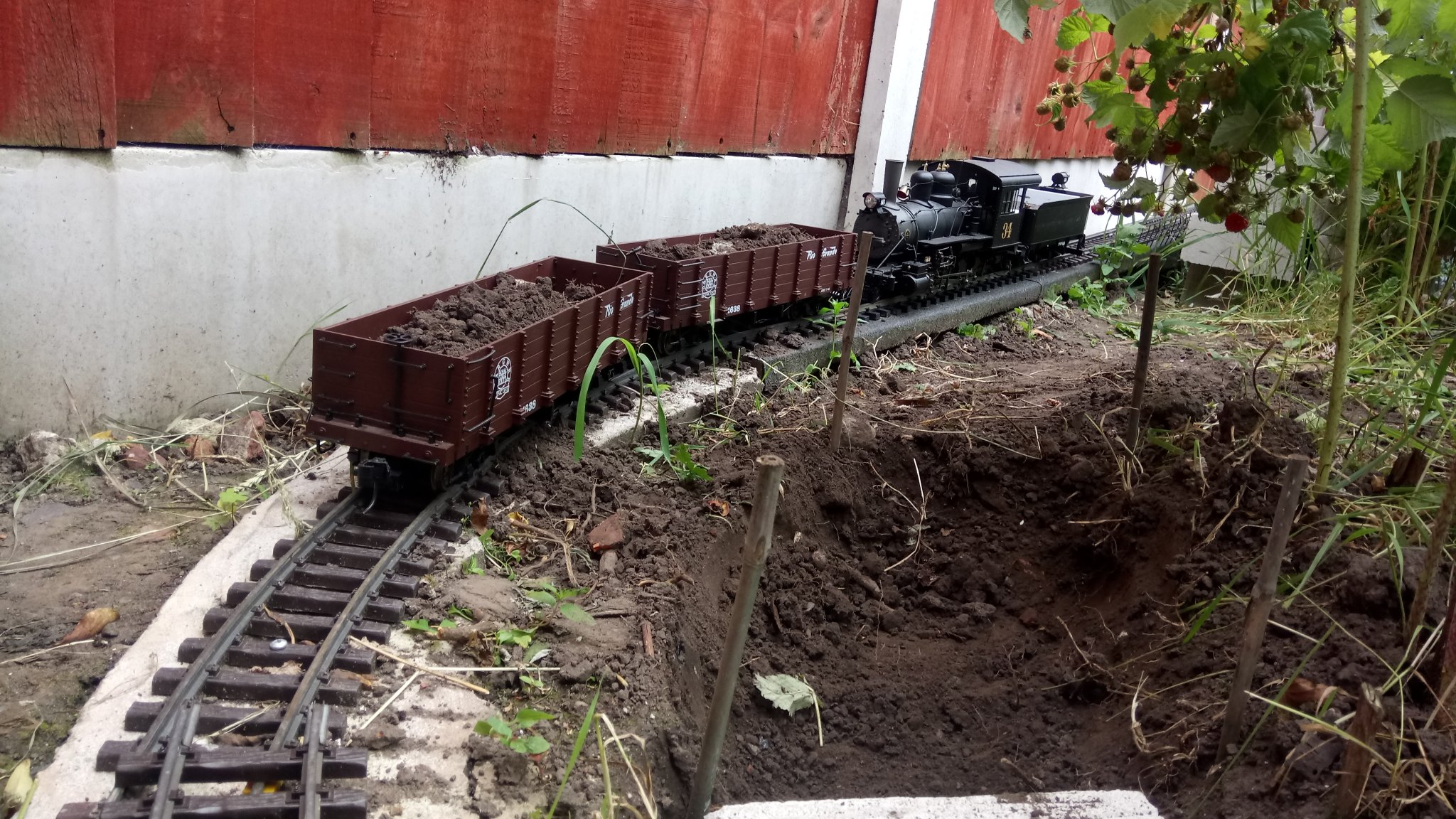 3