The year 2018 marks 50 years of LGB, and to celebrate this event, Marklin/LGB has produced the LGB 28443 after one of the Swiss Railroad's RhB Ge 4/4 II electric locomotives. And the RhB Railroad is celebrating the anniversary by marking one of its locomotives with the same exact LGB logo schema. See the LGB's Website about the LGB 28443 50th Anniversary model and also watch the interesting video of the RhB Swiss Railroad's project to install the same exact LGB logo scheme onto one of their locomotives. Website:
LGB - 50years
Since I'm a diehard LGB fan, and after watching the RhB railroads video, I recently decided to buy the LGB 28443. I surveyed over 15 train shops for prices in USA and Europe and found the lowest price at
https://www.modellbahnshop-lippe.com
in Detmold, Germany, for the export (no-VAT tax) price of 780 Euros (approx $912) plus the flat 27.50 Euros shipping to USA. I use the Transferwise.com money transfer service for my overseas buys which has one of the lowest USD to Euro conversion fees around.....only $8.06 fee using an ACH debit from my bank checking account funds. Grand total all costs for the locomotive: $948. Lowest USA price I found was $979 plus shipping at
http://pizzatrains.com
. LGB/Marklin produced this locomotive in January 2018 and they probably won't be making any more production runs, so there's only the existing inventory at train shops in USA and Europe, in case anyone wants to buy one.
Last Friday I received the shipment, only six days transit time from Germany to the USA East Coast……very fast compared to the usual three weeks shipment time for my other large scale buys from other German vendors. If you'd like to see a demo of the LGB 28443 operating on my small indoor layout, go to my Website listed below…….pretty neat sounding loco! You can also see there the video I made of an LGB 23130 Olomana Sugarcane Plantation Steam Locomotive operating with the Soundtraxx Tsunami2 DC/DCC power/sound decoder I installed........neat little loco! My Website:
LGB Trains | Old Dominion Railways | Locomotives For Sale | Repairs
ADDENDUM 9-27-2018: IF YOU'RE A DIEHARD RAILFAN LIKE MYSELF, YOU NEED TO VISIT THE LGB.DE WEBSITE ABOUT LGB'S 50TH ANNIVERSARY...........VIEW THE SWISS RHB RAILWAY'S VIDEO THERE ABOUT THE PROCESS OF DECORATING ONE OF THEIR ACTUAL GE 4/4 II LOCOMOTIVES WITH THE SAME EXACT LOGO SCHEMA THAT'S ON THE LGB 28443 MODEL........SHOWS THEIR RAILWAY HEADQUARTERS SHOPS, THEIR CROCODILE LOCO BEING RESTORED, THE TURNTABLE AREA AND THEIR LGB LOGO'D #617 GE 4/4 II ON A RUN.............A MUST SEE BY RAILFANS! WEBSITE:
LGB - 50years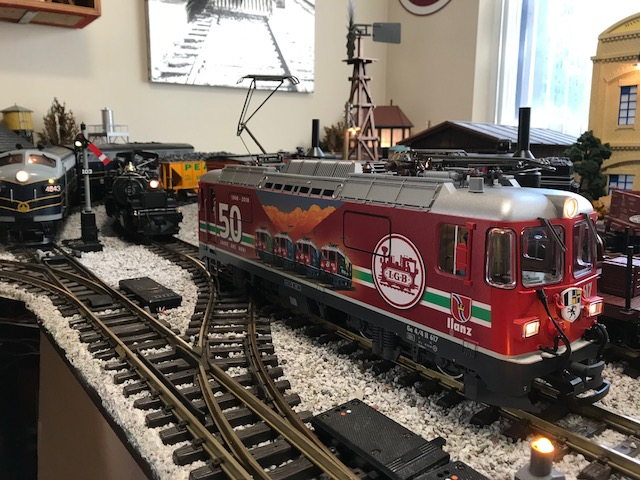 Last edited: