Over 20 years ago it was the 1:29 scale USA diesels that persuaded me to build a garden railway. Somehow they don't seem so popular now but they are pretty good scale models albeit with a slightly dodgy track gauge. The track gauge is still closer to scale than the track gauge used by 00 locos. I still love these US diesels so here are a few photos. Please feel free to post more.
This 44 tonner is in a genuine livery. The UP had just one of these and used it at a carriage works.
USA Trains S4. This was never the most popular of the USA Trains fleet but I like them.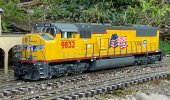 Love this bad boy!
Last edited:
12