I have a dummy motorblock from a playmobil 4029 tender(I've since replaced it with a powered one), but I want to power the dummy motorblock with an extra playmobil RC motor I have for another playmobil train. It seems that the RC motor itself fits perfectly in place inside of the electric motorblock, but it seems that the brass worm gear needs to be scooted away from the motor slightly so it will fit properly in the support which is currently interfering with a proper seating: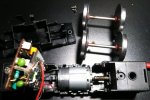 But this leads me to the dilemma of finding proper gears to fit to one of the bare axles from the dummy motorblock. Does anybody know the specifications of plastic gears which would be required for compatibility with playmobil worm gears?
(question 1)
I have an old one of these can openers which I've dismantled for parts a long time ago:
It has a gear whose teeth match the playmobil worm gears, though its a much larger diameter gear. I was thinking I may be able to fit it to the larger Steaming Mary wheels since the larger diameter gear may compensate for the speed difference of the larger diameter wheels.

Of course these wheels would not be put into a standard playmobil motorblock. I have another RC motor which I could try to fit inside the Steaming Mary locomotive chassis itself(though I'm not yet sure if the large gear will fit in there).
The point is that the gear teeth required by playmobil worm gears seem like a standard sort if they are found in can openers, so I don't imagine that the gears for the regular sized motorblock wheels are very proprietary. I don't have any LGB gears to test to see if they match the playmobil worm gears. Does anyone know if there are compatible gears from LGB since they had a hand in the development of Playmobil trains?
(question 2)
... or better yet, does anyone know of any compatible gears from random gear suppliers which should be cheaper?
(question 3)
Or does anyone know of any cheap common toys or tools which happen to have compatible gears?
(question 4)
This leads me to another question: If I power the 6 volt RC motor from the track with a DC to DC buck board step down converter( since the track has a max of 14 volts DC and I don't want to go higher than 6 volts on the RC motor), would the change in track voltage translate into a change in output voltage on the buck board, or do buck boards have a constant output voltage?
(question 5)