Neither idle nor a marvel
In another thread
Operational timetable for my model railway
I mentioned bus replacement services as part of a timetable I am using for my recreation of the Steyrtalbahn in Austria in the early 1980s. I even found a picture of such a bus (Bahnbus), and identified it as an old Steyr Saurer. If you are a bus nerd you will enjoy this website:
Bahnbusse und Regionalbusse - Bahnbus und Postbus Österreich
Enough preamble. I wanted to make a model of such a bus. There are no off the shelf models at G-scale (plenty in HO), but I didn't want to scratch build. I am a fan of Playmobil, and they used to make a "City Bus", which looks like this:
This looks nothing like the Steyr Saurer, but it does resemble the next model of Steyr postbus, the Steyr SL11. These ran in the 1980s in OBB orange livery, see here:
http://www.db-regionalbus.de/regionalbus/bilder/at/oebb-postbus/BB4002_31051980.JPG
(picture not imbedded as it is copyrighted)
Playmobil models are roughly 1:24 scale so are a good fit for LGB model railways at 1:22.5. The Playmobil bus is 300mm long, 115mm wide and 140mm high. Scaling this up by 1:22.5 gives about 6.8m long, 2.6m wide and 3.0m high. These match the width and height very well (2.5m wide and 3.0m high) but the length is way too short, by more than 40%, should be 11.8m. A scale model would be over 500mm long. Dimensions of prototype from here:
Steyr SL 11 HUA 280 – Wikipedia
I thought of joining two Playmobil buses together, for about 2 seconds, but instead I am going for a "shortie" version given that my layout is so small anyway.
I found a Playmobil City Bus on eBay, set 7151. (You can also get the same bus in sets 3778 and 3782). It arrived yesterday, unboxed and well used, but the bus was complete and undamaged, no scratches, not even on the windscreen, and the tyres have not perished. Here are the pieces laid our ready for quick dishwasher treatment (with SMWBO permission!). You can see how UV has changed the white plastic after 30-odd years to pale yellow (look inside the bus body to see the contrast), and faded the bright blue.

Playmobil models are normally clip-together with no screws, but not always designed to be taken apart. Some degree of brute force is required, and with models this old (this one from 1988) the plastic can be quite brittle. I did manage to get it all apart, with minimal damage, the hardest bit was extracting the seats from the body shell. A small sliver of plastic did fly off when I was prising off a catch on the chassis but by some miracle I managed to find it on my shed floor, and glued it back.

I had to drill out two of the clips on the side, as I didn't think I could force the body apart any further without cracking it.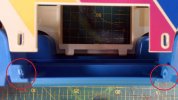 There is a neat destination board switch so you can have four different destinations. Although it looks nothing like the prototype, I might keep it anyway as I like the ingenious mechanism.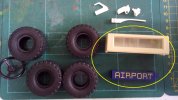 I'm not planning to make too many changes to the model, apart from repaint, but I will add a central windscreen brace.
The Playmobil model has no glazing apart from the windscreen. This is quite normal as they are designed for young children to play with, placing people in the seats. Windows would make that difficult and after a few hours in the hands of most children you wouldn't be able to see through the windows anyway! Luckily I have a large supply of plastic glazing from various PIKO and POLA models, enough to glaze all the windows and doors.
I have ordered a can of RAL 2010 which is the best match I could find to OBB orange. I found a great web site which converts any colour specification (RGB, CMYK, HTML #number, etc) and will give you the closest match in RAL number, for example. See here:
Convert Hex color #f8e00f to Rgb, Pantone, RAL, HSL, HSV, HSB, JSON. Get color scheme.
More as I progress. My modelling aspirations always exceed my abilities, but perhaps that's how it should be.

7